| | |
| --- | --- |
| | Made in the U.S.A. |
E-Z Spread n' Lift Industries has been manufacturing lifts for over 20 years. Each model is constructed of strong, lightweight aluminum alloy for strength and ease of handling. Everything we sell is made in the U.S.A. and unconditionally guaranteed (parts and labor) for one full year.

Our TV Lift comes as one model and has a lifting capacity for TV's weighing up to 325 lbs., 53" high and any length. That's enough to handle the largest, heaviest TV's.

Our Cabinet Lift comes in two models. One model is for cabinets up to 12" deep and any length with a lifting capacity up to 300 lbs., and one model is for cabinets up to 22" and any length (also other items) with a lifting capacity up to 175 lbs.

Our winch is the latest version, self locking type with an automatic brake function designed for many years of trouble free service.

We ship to the United States and Canada. For a shipping quote to Canada e-mail us at sales@e-zspreadnlift.com with complete shipping information.

To see what our customers think about our lifts, click on the testimonials button at the top of the page for unsolicited, written testionmonials and pictures of our lifts in use.




Click on the pictures below for full, detailed product information

Our Tools


E-Z Lift

E-Z Tool

E-Z TV Lift
E-Z Spread N' Lift Industries
1815 Buck Road
Feasterville, PA 19053
Telephone: 215-322-2099
Fax: 215-322-1066
E-mail: sales@e-zspreadnlift.com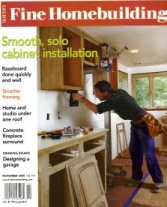 The E-Z Lift Cabinet Lift
was featured in the Nov.'05
issue of Fine Home
Building Magazine.


Home | E-Z Lift | E-Z TV Lift | E-Z Tool | Testimonials - E-Z Lift
Testimonials - TV Lift | Testimonials - Photo Gallery | Contact Form | Prices and Ordering


Content of these Web Pages is Copyright ©2012-2020 E-Z Spread N' Lift Industries
Written Permission is required prior to reproduction in whole or any part. All rights reserved.



Do you like the look and feel of this Web Site?
No-Nonsense Web Design is available at surprisingly reasonable rates from...
Art Glick dba Almost Heaven Electronics