| | |
| --- | --- |
| | Made in the U.S.A. |
E-Z Lift
DETAILED INFORMATION
The E-Z Lift is constructed of anodized aluminum with the assembled lift weighing 49 lbs. It has multiple uses; for installing wall cabinets before or after bases are in place and as a dolly for moving cabinets from room to room. Complete assembly time takes less than 2 minutes. All assemblies are 100% modular with no tools needed for assembly (except a screwdriver for the counter top protection channels). The lift breaks down into four separate assemblies. #1. Base assembly. #2. Cabinet support table assembly. #3. Top center post assembly. #4. Bottom center post assembly.

Two paded counter top protection channels are included and are used when wall cabinets are installed after bases are in place. They are attached under the wheels of the base using a phillips screwdriver.



Features and Specifications


Can be used with an electric drill or the winch handle
300 lb. lifting capacity - 150 lbs. with 24" deep cabinets
Adjustable cabinet support table to plumb and level cabinets
Cabinet support table 20" wide x 24" deep
Maximum lift height of bottom cabinets 70" from floor
Four 4" polyurethane casters (2 rear swivel and locking)
Easily fits in car, mini van, station wagon or truck
Made in the U.S.A.

E-Z Lift

Counter Top Protection Channels


Install a row of Upper Cabinets prior to Lower Cabinets...

Lift one end and roll tool
under row of cabinets...

...balance and
position cabinets...

...raise cabinets to
proper height and mount!

...or even after Lower Cabinets are installed!


Load uppers, position in front
of base cabinets and raise...

...slide cabinets onto temporary
supports, one end at a time...

...raise cabinets to
proper height and mount!
Hover over the above pictures for more details...



E-Z Spread N' Lift Industries
1815 Buck Road
Feasterville, PA 19053
Telephone: 215-322-2099
Fax: 215-322-1066
E-mail: sales@e-zspreadnlift.com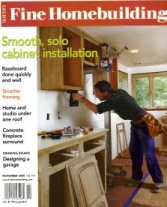 The E-Z Lift Cabinet Lift
was featured in the Nov.'05
issue of Fine Home
Building Magazine.


Home | E-Z Lift | E-Z TV Lift | E-Z Tool | E-Z Tool Complete Kit
Testimonials - Cabinet Lift | Testimonials - TV Lift | Testimonials - Photo Gallery | Contact Form | Prices and Ordering


Content of these Web Pages is Copyright ©2012 E-Z Spread N' Lift Industries
Written Permission is required prior to reproduction in whole or any part. All rights reserved.

Do you like the look and feel of this Web Site?
No-Nonsense Web Design is available at surprisingly reasonable rates from...
Art Glick dba Almost Heaven Electronics